Bread Stories – Breaking of Bread
|
Bread Stories – Breaking of Bread
I prefer bread stories over rice or noodles stories.
A fact that doesn't go down well with my Chinese Mother, who will tell anyone and everyone that she hasn't eaten – if she doesn't eat rice.
It was a problem for all and sundry.
"You haven't fed your Mother? How mean!"
"Please, you must give her food to eat."
"She is old; you can't starve her!"
"What you are doing is just WRONG!!!"
There were other neighbors who, shall we say, more eloquent in their expressions and expletives!
Mimmi told me that as we lugged in a gunny sack of durians to her Mother's kitchen.
Mimmi's Mother looked up and said,
"I haven't eaten rice today."
I spied the remnants of kuih (Malay cakes), biscuits, and noodles on bowls and plates left in the tiled sink.
There were plastic and newspaper wrappers stuffed in the recycled kerosene pail "dustbin."
Mimmi gestured with her chin.
"Dory, you scoop out the rice from the rice cooker. Loosen it with chopsticks first. Yes, the black ones."
"Well, I haven't eaten a grain of rice today, you know, Ah Girl?"
Mimmi's Mother complained to me bitterly.
I nodded.
The pungent durian scent was overpowering.
I squeezed the thick coconut milk from a muslin bag, sieve it, and put in a pinch of salt to taste.
Mimmi nodded from across the kitchen table.
Her arms twisted, and gloved hands pried open the durians.
"It's surely easier if she just uses an ax," I thought to myself.
In the background, the rant goes on.
I haven't eaten a grain of rice today. I haven't been fed a single grain of rice today. I haven't eaten a grain of rice today.
This takes us to the importance of rice and not Bread in the Asian diet.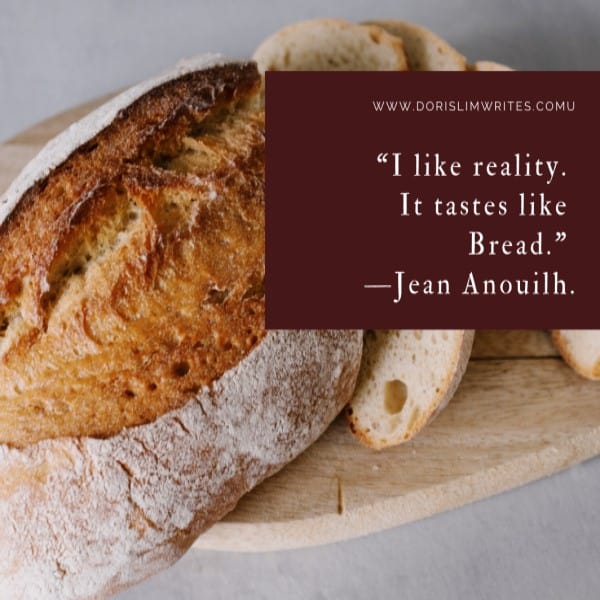 Why is Bread vital?
For me, growing up, I remember my mom taking me to buy Bengali bread.
Nothing beats the unmistakable whiff of freshly baked Roti Bengali.
There is something unmistakably comforting about Bread.
The crackling sounds came from cooling loaves, and the warmth of its wholesome goodness imprinted in my memory.
I remember going to the back of the bakery to watch the big Bengali bakers kneading the dough by hand.
I could see the hard work and the uncles drenched in sweat – the wood-fired ovens heated the air.
My favorites were the soft coconut and sweet buns.
We bought loaves of Roti Bengali bread at home.
The thick brown crust and fluffiness of thick slices were chewy.
Growing up, I would have the buns for breakfast – this time, I bought from the 'roti man' on their bicycles.
The Roti Man (The Bread Man)
I remember my Roti Man with fondness. He left his bride in India and started to sell Bread in my neighborhood.
When he came, he couldn't speak Malay nor any of the Chinese dialects.
He would ride his big black bicycle with a wooden and glass cupboard attached, stacked high with loaves.
Later he added more items to the staple of Roti Bengali bread, cream buns,  butter cakes, and dangling bunches of snacks.
As Malaysians, we all have a soft spot in our hearts for the trusty roti man and on his bike.
Bengali bread is never eaten on its own.
Malaysian love to eat it toasted and spread with butter, kaya, sambal, honey, or dipped in soups and curry.
I don't remember the Ane (Tamil for Uncle) ever falling sick or not showing up.
He only goes on extended leave every year to India to see his wife and family.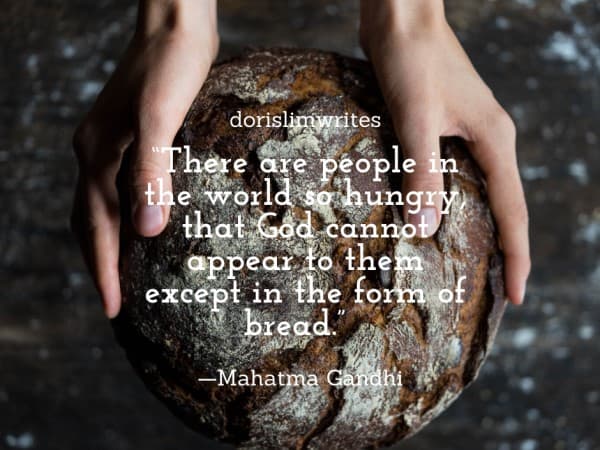 What is more astounding than Sliced White Bread?
There are few attitudes more incredulously packaged than pre-sliced White Bread.
I live dangerously. I take sliced white bread with butter – Doris Lim
I used to work for a man whose wife had so many opinions about everything.
She knows many things I don't.
A lot of people also know more than I do. But she makes a sore point of pointing that out.
One day, I was eating my folded sliced white Bread (nothing inside – no one knows)
She scolded me.
Then she began the monologue, the dangers of White Bread.
How unhealthy it was.
That I could kill myself eating it.
I smile.
That was when I said, "I live dangerously. I take sliced white Bread with butter."
To this day, she would wonder if I'm still alive – eating horrible, terribly wrong, and disgusting white Bread.
To this day, I smile at breakfast.
I can afford butter now.
I smile when I remember her. I wish her quiet Wisdom.
IGNORANCE shouts.
Hope is quiet too.
We look to live a happy life by being happy.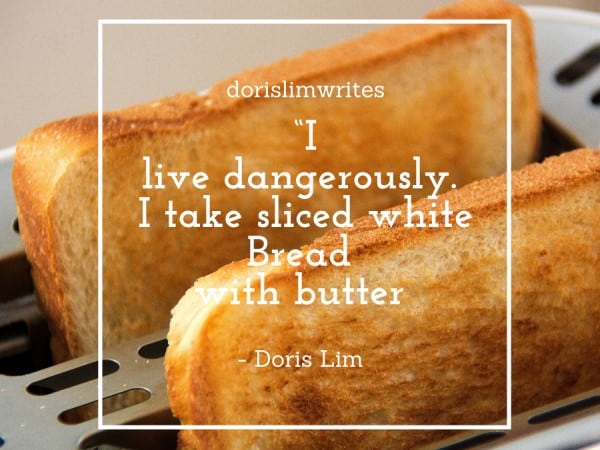 The Breaking of Bread (Acts 2-40-47)
The Breaking of Bread refers to the fact that the early church was a. communal church; they gathered together often, even daily.
We are told they ate their Bread with generosity and simplicity; they shared in.
Meals together, they were like a family as we saw and talked about.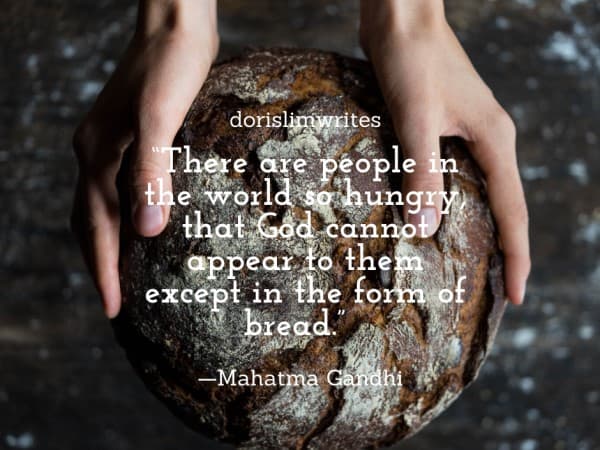 Inspirational Source: Bread Stories – How Bread is Interwoven with our Lives