The Blessing – Sing A Blessing Over Malaysia
|
The Blessing – Sing A Blessing Over Malaysia
During this unique and challenging time in Malaysia, where the nation is in lockdown, many could not go to worship.
The churches are thriving during this pandemic despite the lockdowns and closure of physical locations.
Our buildings may be closed but the church is very much alive!
80 churches and movements, representing hundreds of others, came together online to sing "The Blessing" over our Malaysia.
The singers sang in multi-languages and displayed the different cultures and ethnicity of Malaysia. This gave the song a multi-dimension and deeper meaning.
Many moved to tears.
120 singers standing together as one as a Malaysian choir sang 'The Blessing" in Malaysia –  with the desire to sing a song to encourage.
And to give the nation a HOPE for the future.
Kudos to the amazing organizing task force, singers, musicians, and production team!
May the wave of God's blessing sweep across our beloved nation as we sing and declare Numbers 26: 24-26 over Malaysia.
I'm so proud to be Malaysian after listening to this.
The Blessing YouTube Video which premiered May 15, 2020, has garnered thousands of views.
'THE BLESSING" Lyrics:
Verse —
The Lord bless you and keep you
Make his face shine upon you
And be gracious to you
The Lord turn His face toward you
And give you peace
Barakatan (Be blessed) – Dusun
Lalu ngintu (and protected) – Iban
使祂的脸光照你 (The Lord make His face shine upon you) – Mandarin
也赐恩给你 (and be gracious to you) – Mandarin
Karthar unakku samathanam (The Lord give you peace) – Tamil
Mare senang (Give you peace) – Kelabit
Chorus —
Amen, amen, amen
Tuhan s'lalu, berkati
Wajah-Nya menyinari mu
Dengan kasih kurnia
Memandang mu, Tuhan beri
Kedamaian
Chorus —
Amen, amen, amen
Bridge —
Rahmat Tuhan bersama mu
Tuk seribu generasi
Keluarga, anak kamu
Cucu cicit, anak m'reka
Ke hadapan bersama mu
Belakang mu, sebelah mu
Sekeliling dan dalaman
Tuhan ada dengan kamu
Waktu siang, waktu petang
Waktu pergi, waktu datang
Susah hati, senang hati
Dia ada untuk kamu, Dia ada untuk kamu
May His favor be upon you
And a thousand generations
And your family and your children
And their children, and their children
May His presence go before you
And behind you, and besides you
All around you, and within you
He is with you, He is with you
In the morning, in the evening
In your coming, and your going
In your weeping, and rejoicing
He is for you, He is for you
#TheMalaysiaBlessing
#BerkatiMalaysia
#祝福马来西亚
A Multitude of voices sing "The Blessing" Over Malaysia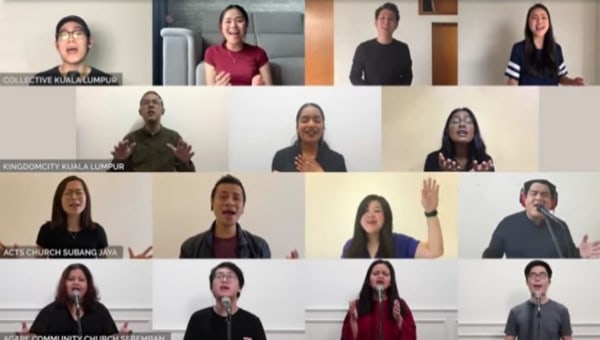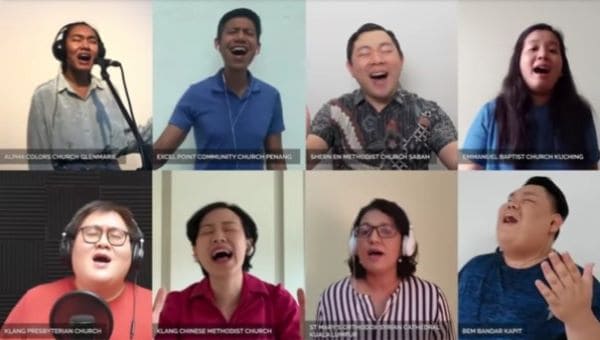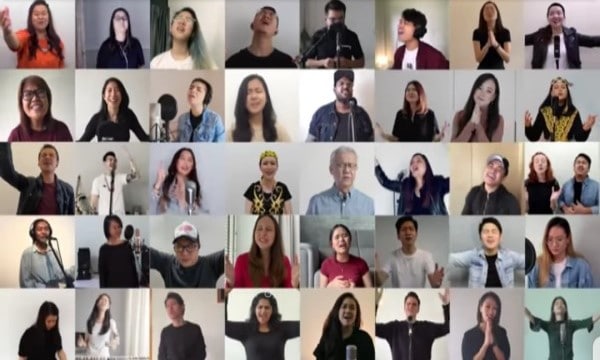 The churches involved include in the production of "The Blessing"
Acts Church, Subang Jaya
Agape Community Church, Seremban
Alpha Colours Church, Glenmarie
Basel Christian Church of Malaysia, Kota Kinabalu
BEM Baithani, Miri
BEM Bandar Bintulu
BEM Bandar Bintulu (bm)
BEM Bandar Jaya, Bintulu
BEM Bandar Kapit
BEM Canada Hill, Miri
BEM Life, Miri
BEM Olive Garden, Kuching
BEM Pelita, Miri
Calvary Charismatic Centre, Donggongon
Calvary City Church, Kota Masai
Christian Life Gospel Center, Petaling Jaya
Church of Praise, Ipoh
Church of the Divine Mercy, Shah Alam
Collective, Kuala Lumpur
Community Baptist Church, Petaling Jaya
Community Baptist Church, Subang Jaya
Cornerstone Community Church, Miri
DUMC, Petaling Jaya
Emmanuel Baptist Church, Kuching
Emmanuel word Center, Kulim
Every Nation Church, Kota Damansara
Every Nation Church, Petaling Jaya
Every Nation Church, Puchong
First Assembly of God, Kota Bharu
First Baptist Church, Subang Jaya
Full Gospel Assembly, Kuala Lumpur
Full Gospel Church, Johor Bahru
Gereja Methodist Tudan, Miri
Glad Tidings Petaling Jaya
Glory Christian Centre, Kota Kinabalu
Good News Fellowship, Kuching
Grace Charismatic Centre, Kuantan
Harvest Christian Assembly, Klang
His Church, Kuala Lumpur
Holy Trinity  Brompton, London
Holy Trinity  Bukit Bintang, Kuala Lumpur
Hope City, Kuala Lumpur
Jelutong Chinese Methodist Church, Penang
Kingdomcity, Kuala Lumpur
Klang  Chinese Methodist Church
Klang  Presbyterian Church
Kuala Lumpur House of Prayer
LIfegen Church, Kuala Lumpur
Mega Chinese Methodist Church, Petaling Jaya
Metro Tabernacle, Kuala Lumpur
NLFC, Kuala Terengganu
Penang House of Prayer
Petaling Jaya Gospel Hall
PJEFC, Petaling Jaya
Protestant Church in Sabah, Sandakan
RLM Fellowship, Melaka
SAND
Setapak Gospel Centre, Kuala Lumpur
SGC, Kuala Lumpur
Shern En Methodist Church, Kota Kinabalu
SIB City Church, Kota Kinabalu
SIB Kingdom Worship Community, Kota Kinabalu
SIB Kota Kinabalu, Likas
SIB Pekan Tambunan
SIBKL, Petaling Jaya
Soul, Alor Setar
SS Gospel Centre, Petaling Jaya
St Columba's parish, Miri
St Mary's Orthodox Syrian Cathedral, Kuala Lumpur
St Patrick's Anglican Church, Tawau
St Paul's Church, Petaling Jaya
Star park 众星园
Tamil Methodist Church, Petaling Jaya
The New Covenant Church, Petaling Jaya
Trinity Methodist Church, Penang
Wesley Methodist Church, Klang
Wesley Methodist Church, Teluk Intan
Wesley Methodist Church, Kuala Lumpur
World Harvest Church, Sunway
Worship Kolektif Malaysia
Production Credits of "The Blessing"
Audio produced by John Jeeves @ Soar Studio & Lester Wong
Video edited by Shaun Kam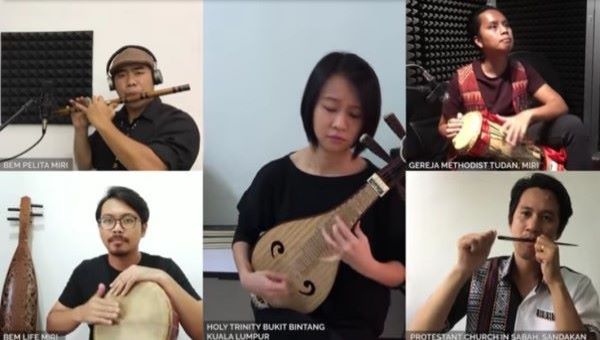 For questions and more information please contact —
themalaysiablessing@gmail.com
You can connect The Malaysia Blessing at
Instagram: http://bit.ly/TheMalaysiaBlessingIG
Facebook: http://bit.ly/TheMalaysiaBlessingFB
Twitter: http://bit.ly/TheMalaysiaBlessingTW
#TheMalaysiaBlessing
#BerkatiMalaysia
#祝福马来西亚
#MalaysiaAsirvatham
"The Blessing" Chris Brown, Cody Carnes, Kari Jobe, Steven Furtick
©️2020 Capitol CMG, Paragon, Kari Jobe Carnes Music, Worship Together Music, Writer's Roof Publishing Music by Elevation Worship Publishing
Source:
The Malaysia Blessing YouTube