Words of Condolence to Express Your Sympathy
Words of Condolence to Express Your Sympathy
The only comforting words of Condolence came from a friend.
I read this heart moving article yesterday.

Joining you in holding sacred space for Yim Mei in our hearts and MG in your heart.  They continue to be a voice in our minds and a presence in our hearts.

Hugs to you. ❤️
A week after I wrote, grieving the death of a friend – no goodbyes. The messages I receive border on a lack of understanding and curiosity.
"What happened, Doris?"
Tell me honestly – how do I answer that on a comment line?
The world is now reduced to reading rich snippets or coming to certain conclusions without reading anything.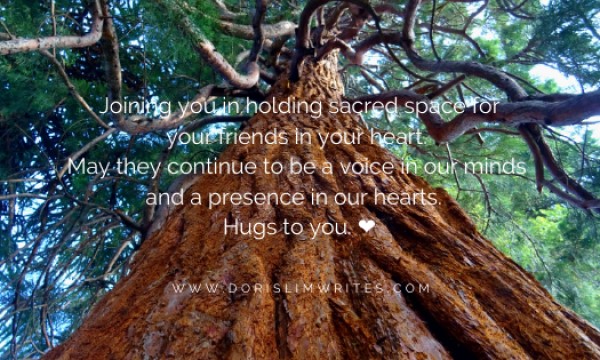 How do I say words of Condolence?
Too many friends and acquaintances want to talk about how my loss affects them.
My friends died. I'm grieving.
Could you not ask me what happened?
It has nothing to do with you.
Your goal should always be able to express compassion.
Your Words of Condolence for someone grieving.
You are not here to cheer someone who is recently bereaved.
Neither do you ask awkward questions to satisfy your curiosity on social media?
Be genuine when you express Words of Condolence for Someone Grieving.
You need to honest with yourself about your thoughts, beliefs, and behavior before you can be true to your feelings and opinions.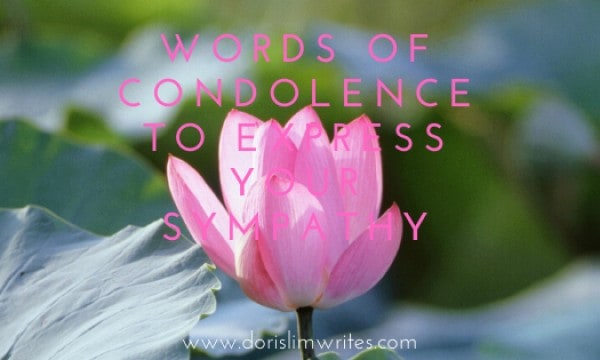 What are the Right Words of Condolence for Someone Grieving
If you put in a little thought, you can find a way to comfort a grieving friend or family member. At my father's funeral, I remembered having to answer a Spanish inquisition of neighbors, relatives, and kind friends.
How to Comfort Someone Without Words
The one who stood out in the sea of "well-wishers" was someone half my size in stature. She held onto my hand and stood by my side and never left me.
She didn't say or ask anything and saw it to pass me some water when I needed it.
She pulled me away from curious people at the wake.
What I noticed was no one knew what to do or what to say. Every well-meaning wish sounded wrong.
What you can say to offer Words of Condolence for someone grieving
I'm sorry.
My condolences.
He/she will be dearly missed.
He/she is in my thoughts and prayers.
You and your family are in my prayers.
I hope you find some peace today.
Be kind to yourself.
I'm here for you.
I am saddened to hear about (deceased's name) passing.
I am sorry that you are going through this.
I've lost a loved one before and can understand what you may be feeling.
Know that it's okay to feel, however you want to feel during this time, and I will be here for you.
May your memories of (deceased's name) bring you peace.
You may want to think about changing what you say. It all depends on who you are speaking to, how well you know them. Do you even know who they are mourning?
What Not to Say When Offering Words of Condolence
It is often easier to say the wrong thing to someone who is grieving – without even realizing it.
When someone is grieving, they are going through an emotional time.
Be extra sensitive. If you are struggling with finding words to comfort someone who is grieving, do not say questions to satisfy your curiosity.
What happened?
This is likely to be viewed as unsympathetic.
Putting Words of Condolence in Writing
If you are writing a note or signing a sympathy card – remember to keep it short and simple.
You can also include a prayer card, funeral money, or a donation to a favorite charity.
Things to avoid in written expressions of sympathy.
Don't elaborate on the bereaved person – no one may emotionally be ready to read a long letter.
Do not elaborate on your life or other personal issues.
Could you not make it about you?
It has nothing to do with you.
Acknowledge Loss in a Caring Way
It's not always easy comforting someone, but it is important to acknowledge the loss as soon as possible.
"I'm sorry to hear that."
The Best Words of Condolence to Say to Someone in Grief
I am so sorry for your loss.
I am sorry to hear that; I am here for you.
Saying nothing, be with the person.
Give a hug instead of saying something.
Hold hands.
You and your loved one will be in my thoughts and prayers.
I am usually up early or late if you need anything.
I don't know how you feel, but I am here to help in any way I can.
I wish I had the right words; know I care.
I am always just a phone call away.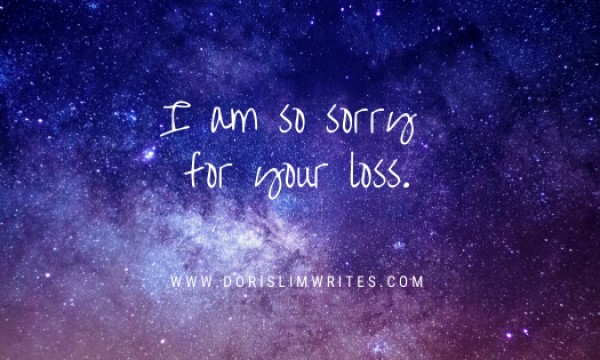 The Worst Words of Condolence to Say to Someone in Grief
Be strong; don't cry in public.
So he died, after that what happened?
At least he lived a long life. Many people die young.
He is in a better place.
There is a reason for everything.
She brought this on herself.
God loves her, so he wanted her to be with him.
You are still you; you can make another baby.
I know how terrible you must feel.
His time is up.